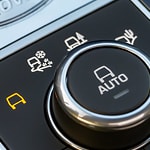 The Land Rover made a variety of different Discovery trims to suit every driver who wanted off-road and on-road adventures with amazing horsepower. The new fine-tuned designs and aluminum body make it more stable on any terrain, but it's the only luxury midsize SUV of its kind to have these options. In addition, Land Rover announced that it was designing the Discovery Sport to include upgraded tech and a 48-V mild hybrid powertrain feature.
In the base edition of the Discovery, you'll get 340 horsepower, supercharged engine, and off-road gear. The turbodiesel is the same package but with a little less horsepower for cleaner energy and more fuel efficiency. The Discovery Sport is the more compact version, but it also has the Premium Transverse Architecture feature. This gives it a tougher suspension and frame for off-roading adventures.
You can test drive the latest Discovery models when you head to Land Rover Roaring Fork located in Glenwood Springs.