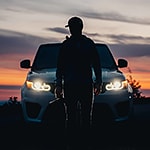 Once considered a tough workhorse vehicle, the new Range Rover now offers a plush, luxurious cabin with all new technology options. The new tech goodies include a 10-inch touch-screen, Touch Duo Pro infotainment, Bluetooth, USB ports, WiFi hot spot, GPS navigation, satellite radio, and driver safety features.
Every Range Rover comes standard with leather seats, heated leather steering wheel, and a beautiful wood-veneer trim. When you move up to premium trims, you also get massaging seats and heightened hidden-until-lit steering wheel switches. You can customize these switches with shortcuts to making phone calls, sending texts, listening to music, or any other compatible app through your phone. You can now connect to Apple CarPlay and Android Auto instantly as well.
It's even better when you see these features in person. Do you want to check out the latest Range Rover? You can head to Land Rover Roaring Fork to get more information and take a test drive in Glenwood Springs.