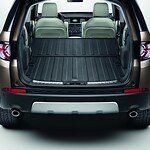 SUVs have become so popular in recent years that many refer to them as the new family car. They offer many of the same conveniences and amenities of cars with so many more that cars don't offer. SUVs offer a great way to advance to a larger vehicle. If you have any SUV-related questions or would like to check out our selection, come to Land Rover Roaring Fork. There are many reasons you may want an SUV.
• Fuel Economy – Despite their size, SUVs get good gas mileage.
• Flood protection – SUVs offer more protection in flooding.
• More cargo space – You'll be amazed at the extra space you'll have with an SUV.
• Fun – You can have some great off-roading fun with SUVs.
• Towing – You'll be able to tow most of your toys with an SUV.
If you're thinking about getting an SUV for your next vehicle but are still not convinced, why not take one out for a test drive? Stop at our Glenwood Springs showroom and check them out.